October 27th, 2009
If you missed the INTRODUCTION to our Hidden Heroes series, or haven't read about Hidden Heroes #1 thru #4, click here. Otherwise, continue below to read about Hero #5…
We've heard from a lot of people, especially in the metaphysical community, who think it's spiritually correct to say, "I don't watch TV."
They're often the same people who say, "I don't watch, listen to or read the news because it's all just a bunch of negative stuff."
Well, if you're expecting negativity, guess what you get? (Yes, that's LOA 101, so I'm not going to insult you by telling you the answer!)
However, if you're confident enough in your own self-discipline, as Barry and I are, not only can you watch TV without getting sucked into any traps, but you can get some great learning experiences:
1. Learn to decipher fact, not only from fiction that's presented as fiction, but from fiction that's presented as fact.

2. Discover how layered facts make up truth.

3. Get exposed to empowering and inspirational stories or human triumph and goodwill that you never would have experienced otherwise.
One of the shows we used to watch was Donnie Deutsch's The Big Idea on CNBC. It gave inspirational profiles of people who made it in business, just because they saw a need, figured "there has to be a better way to do this," and made it happen.
Well, the show was put on hiatus last year, because the network figured that trying to inspire people with stories of how anyone can start a Fortune 500 business wasn't really believable in the current economy, when many are just trying to get by. Sliding ratings made them think they were right, although it would have been nice to see a revamped version of people making it despite the economy. After all, fortunes and successes are not just lost in bad times, they're also created.
But now Donnie's hosting a new CNBC show — or, rather, a prime-time special, for now — called The Entrepreneurs. Unlike The Big Idea, which featured all kinds of ventures, The Entrepreneurs seems to be focusing on those with a drive to make a difference, rather than just make a buck.
One of the two stories featured on the first episode, which Barry and I watched last night (and I admit, I did so with tears in my eyes), was the tale of TOMS Shoes…
You may have heard of TOMS before, but we never had. And without knowing anything else but that the company was featured on a Donnie Deutsch show, you could reasonably be wondering why on earth we'd pick the founder to be our next Hidden Hero.
What's so "hidden" about a shoe company, right?
What's so "heroic" about a guy who runs that shoe company?
And, come to think of it, what's so emotionally provocative about the whole thing that it could make me cry?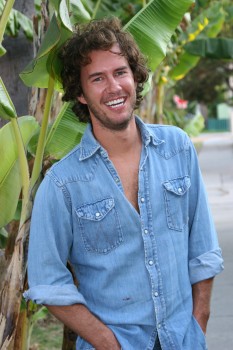 Well, the story begins back a few years, after young entrepreneur Blake Mycoskie appeared on another show we like to watch, The Amazing Race. The reason we watch that one is it shows teamwork, human emotion, strength, drive, and karma in action. You can learn a lot about yourself by watching how others compete and react to adverse situations.
Blake and his sister, Paige, competed as a team in the second season of the show, and missed out on the million-dollar prize by only four minutes.
Can you imagine being four minutes away from being a millionaire, and not getting it? Ouch! Big letdown for some people! Heck, I'm sure lots of folks would spend the rest of their lives wallowing in self-pity over that. But Blake didn't.
Instead, he was inspired to launch his third entrepreneurial venture, teaming up with Larry Namer, co-founder of the E! Entertainment Network, and Kay Koplovitz, former CEO of the USA Network, to create a cable TV specialty channel called Reality 24/7. Approaching it like a renegade with a passion, Blake was able to raise $2 million in start-up funds from venture capitalists and other former reality TV stars… but he created such a buzz that Rupert Murdoch decided to do the idea himself, which forced Reality 24/7 out of the picture.
But wait… let's take a step back. What were his first two businesses?
In university, he started EZ Laundry, a door-to-door service aimed at fellow college students who didn't have time to, or didn't want to, wash their own clothes. After growing the company to serve seven colleges in the Southwest, with 40 employees and 8 trucks, Blake sold it to his business partner.
Then he went to Nashville, and created an outdoor media company that was inspired by the huge billboards in Hollywood. He aimed it at the Music City's top country stars, and went about selling his ad space with a rogue attitude. Like with his next project, Reality 24/7, he caught the eye of a big player in the industry; soon Clear Channel came knocking, and bought the rest of Blake's billboards in Nashville and Dallas.
Businesses four and five were created in Los Angeles. First he teamed up with TrafficSchool.com to create DriversEdDirect, a hands-on driver training school with hip instructors and hybrid cars. To help promote that company, he created Closer Marketing Group, a marketing firm specializing in viral marketing and brand development.
And business number six… well, that brings us to TOMS.
While competing in The Amazing Race, Blake got to see some incredible countries for the first time, but didn't get a chance to experience the culture, so he wanted to go back. Always an adventurer at heart, he took what was supposed to be "just a vacation" to South America in 2006.
In Argentina, he met up with some people who were trying to raise money to get shoes for local children who couldn't afford them. Blake tagged along, and was deeply impacted by the sight of poverty-stricken kids with cuts, scrapes and serious infections on their feet — the result of walking around the harsh landscape without any shoes.
While there, he discovered the Alpargata, a cheaply-made traditional shoe with rope soles that had been worn by farmers in Argentina for the past 100 years. The two experiences sparked an idea, and he returned to Los Angeles with 10 pairs of the shoes in his bag. He started telling people his idea, and was met with negative feedback at every step.
A UCLA professor he hired as a consultant told him he would need a million dollars to start the company and make it viable. Too bad he didn't win that prize in The Amazing Race… but Blake didn't care.
Fabric makers only sold cloth in 1,000-meter minimum orders, but Blake convinced one to sell him 10 meters at a time. He found one manufacturer in Argentina that believed in him enough to make a shoe inspired by the Alpargata, but with a much higher-quality construction, and that allowed him to accomplish his unique goal.
The company motto is "Make life more comfortable," and the idea behind it is simple: for each pair of shoes he sells, Blake gives a pair to a needy child.
Yup, that's right… one-for-one. You buy a pair of TOMS, and a kid who needs shoes gets a pair of TOMS. Now they're running around with fashionable, comfortable shoes instead of injured bare feet.
It started as a project to put shoes on the feet of 250 kids from Argentina, but it soon grew way past that initial milestone.
After selling the first 10,000 pairs of shoes from his Venice apartment — some thanks to a shoe store that liked his mission, others due to write-ups in fashion magazines, and over 2,000 because of a single feature in the Sunday LA Times — Blake went back to Argentina with his family, friends and TOMS staff to make the first TOMS Shoe Drop of another 10,000 pairs.
People told him he was crazy. They said it could never work. They said he'd never make a profit by giving away a pair of shoes for every one sold, especially if the price was going to be reasonable.
But Blake refused to listen to the naysayers.
And it gets even better…
"Shoe Drop" doesn't mean just dropping off shoes, as the name implies. It involves the team fitting and placing shoes, with their own hands, onto needy kids' feet. Now, any customer who wants to help can go along and do that, too.
Watch this moving video of that first Shoe Drop:
[youtube]http://www.youtube.com/watch?v=Kt3BQQ6dQaQ[/youtube]
TOMS is no longer run out of Blake's apartment. They now have a 6,000 square foot studio and close to 20 full-time employees.
But at the heart of TOMS, it's not just your average product-exchanged-for-profit endeavor.
Blake didn't start this business with dollar signs in his eyes. He started it because it touched his heart when he met kids who didn't have, and desperately needed, something that he took for granted: shoes.
As he told ConversantLife.com, when asked how he moved from awareness to action, "I had an emotional connection to the children I met in Argentina in 2006. I felt a responsibility to act on it. I realized I could incorporate giving into a business and knew that it could succeed."
But why shoes, when the majority of charities for third-world children focus on food or medical care?
Because most kids in developing countries grow up barefoot, even though walking is their primary means of transportation. They walk for miles to get water, food, shelter, and medical help. They walk while doing chores, and they walk while playing. This puts them at risk for the leading cause of disease in developing countries: soil-transmitted parasites that get into skin through open sores. Feet that don't have shoes get more cuts and sores, and eventually risk being amputated.
Shoes allow children to walk greater distances, more safely, and therefore help them with the food, the medical care, and even education, since local schools often require students to wear shoes.
Shoes provide preventative care so those kids don't have to get corrective care later.
Shoes give the opportunity for a quality of life they wouldn't otherwise have.
And it's not just third-world countries anymore. The first Shoe Drops were in countries like Argentina, Ethiopia and South Africa, but people kept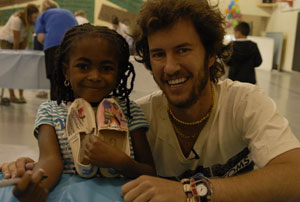 asking, "What about kids in the US?" After Blake thoroughly researched the situation, Hurricane Katrina victims in four school districts got TOMS shoes last year.
As of August, 2009, TOMS has given over 150,000 pairs of shoes to kids in need, in more than 15 countries, and those numbers continue to grow.
And that's why, sitting on the couch with Barry last night and watching the story of TOMS, created by Blake Mycoskie for all the right reasons, I had tears running down my face.
Full disclosure: it doesn't take a lot to make me cry. I cry at movies and TV shows all the time, both for the sad parts, and the triumphant parts. This, again, was a mixture of both: tears of sadness for the kids with no shoes, as I imagined our one-year-old son using his new-found walking skills to stagger barefoot over rough, rocky ground; and tears of joy for what Blake was doing with TOMS.
But… I'm hoping this story might move you, even if you don't have water-works flowing as freely as mine. 😉
So who's Tom?
There is no Tom. The brand name "TOMS" references that these are "shoes for TOMORROW."
Expanding on what Wimpy from the Popeye cartoons used to say, "I'd gladly pay you Tuesday for a hamburger today," this takes things to the next level of social conscience with the concept of, "I'll gladly give a child shoes on Tuesday when you buy a pair today." (Okay, it takes a few months between each Shoe Drop, but you get the picture!)
While now I would still consider TOMS to be a hidden gem (hence Blake being eligible as a Hidden Hero), I think that with the help of the media — including shows like The Entrepreneurs, and maybe even our humble little blog here — the word could get out in a much bigger way, helping many more kids, and snowballing every year.
If you still think that TV and other media are bad, and not worth your time, consider this:
Without TV, newspapers and magazines covering Blake's story, and celebrity endorsements from actors and musicians, TOMS would never have sold the number of shoes they have to this day. As a result, there never would have been so many kids who had formerly been running around with cracked and bleeding feet, now able to wear comfortable shoes for the first time in their life.
The headline could be, Mass Media Helps Hero Save Children's Feet.
And that wouldn't be a stretch, or any amount of hype, at all.
To help Blake's mission, purchase your own pair of TOMS at TOMSshoes.com. Heck, if you're a fashionista, shoe lover, or just want to lend a… um, foot… buy several pairs in different colors! They have an affiliate program, but we didn't sign up, because we don't want to take away any of their profit… we want TOMS to be able to continue to help kids for decades to come.

Want to help even more? Host a Style Your Sole party, and you could put shoes on the feet of 25 or more kids, while you have fun with friends and showcase everyone's creativity. We'll call that Shoes Without Limits…

And if you want to volunteer to help with Shoe Drops, visit FriendsOfTOMS.org.
Your Partner in the Quest For
Living a Life Without Limits,

Filed under: Hidden Heroes, Videos