November 8th, 2008
In our ongoing tribute to the six Gold Sponsors who helped us make SuperManifestor.com a success during our second major promotion of the Gold Pack, we're passing on several powerful interview clips from Heather's conversation with:
Joe saw the immediate benefits in endorsing the Gold Pack a few weeks ago, and we thank him for his support.
We've known Joe for awhile, and every time he hops on the phone with us, he's full of inspiring insights and immediately usable advice.
He is an internationally acclaimed authority on self-esteem building, and the author of "The Self-Esteem Book: The Ultimate Guide to Boost the Most Important Ingredient for Success and Happiness in Life".
And towards the end of these interview clips, he has a free tool for you use: A recording titled "7 Steps to Soaring Self-Esteem."
To listen in and get your free TOOL [ #4A ]…
How important are your values, and how do you determine what yours are? And if we all have special gifts and talents that help us fulfill our true potential, then how do you uncover them?
What does it mean when we say values come in pairs — and more importantly, how does that affect the unfolding of your life?
Find Out Here:
[audio:http://lwltools.s3.amazonaws.com/Clip-DrJoeRubino-values.mp3]
How fast can you get from where you are to where you want to be… especially if you're dedicated to doing the inner work it takes to get there? And in fact, if success is a journey, not a destination, then do you ever really "get there" at all?
In what ways is life a game, and how can you "win" that game?  What happens if you "lose" instead?  How should you handle the challenges that life throws your way?
Find Out Here:
[audio:http://lwltools.s3.amazonaws.com/Clip-DrJoeRubino-journey.mp3]
What does it mean to say we have all we need — and how does that affect the concept of "self improvement"?
How do our perceptions and definitions control what we are able to achieve?
In order to not get stuck in a rut, should we turn off our thoughts and stay in the now… or devise a vision and look forward to the future?
What's the best way to find balance between the different areas of our lives?
Find Out Here:
[audio:http://lwltools.s3.amazonaws.com/Clip-DrJoeRubino-improvement.mp3]
What does it mean to live a "Life Without Limits"?  And why do people so often judge others who are striving for different results?
What is truly the #1 ingredient for success and happiness, and why is it so often looked at as something negative?  How can you determine which is actually ruling your own life, and where you need to make some shifts?
Find Out Here:
[audio:http://lwltools.s3.amazonaws.com/Clip-DrJoeRubino-selfesteem.mp3]
How do things that happened in your childhood affect the person you are today? And how can we use that information to better raise our own children?
How can we turn around old limiting beliefs to become more prosperous?  And what kind of relationship does our past truly have to our present, and more importantly, our future?
Find Out Here:
[audio:http://lwltools.s3.amazonaws.com/Clip-DrJoeRubino-beliefs.mp3]
[ TOOL 4A ] – 7 Steps to Soaring Self-Esteem
Click Here to discover why your level of Self-Esteem is the *most crucial* element to achieve success, happiness, wealth and balance in life, AND why 85% of us lack the confidence essential for living a fulfilling life!
= = = = = = =
[ TOOL 4B ] – Lead Page Generator Software
A true "Oh My God" kinda tool… as in, we were shaking our heads last week and as said to ourselves:
"This easy web-based landing page and mini-site builder sure could have saved us lots and lots of money spent on IT folks who had to build our pages for us."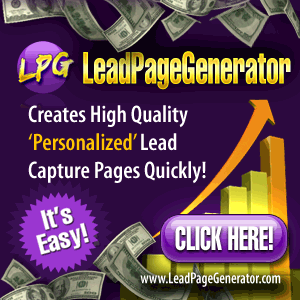 All the tools in the LWL Tools series on this blog are  resources, vendors, and contacts that we use, have relationships with, and know. In other words, if we tell you that something will save you money, make your life easier, or allow you to leverage your time like never before, rest assured, it's saving us money, making our life easier, and leveraging our life already.
And, Lead Page Generator 4.0 is a PRIME tool that we won't be without.
Why?
Well, after 4 years of being online and looking for a tool like this, we can say without hesitation that it's the best when it comes to creating super-professional looking squeeze pages and mini-sites that do the technical heavy lifting for you…
The bottom line is, this products rocks!
Even if you…
* Hate or don't know HTML
* Don't know the difference between an opt-in page and a squeeze page (hint: they are the same thing)
* Have never built a website
* Are a technophobe
Lead Page Generator is the one thing that will, without a shadow of a doubt, make the difference between no list AND A HUGE LIST!
Stay tuned… we'll be showing off some of our pages, using LFP, starting next week!
Your Partners in the Quest For
Living a Life Without Limits,
Filed under: E-Business, Interviews, LWLTools.com, Self-Esteem