January 20th, 2009
Usually when you hear somebody refer to a "monkey mind", it's from a Buddhist term meaning "unsettled, restless, capricious, whimsical, fanciful, inconstant, confused, indecisive, and/or uncontrollable".
People often wrestle with their monkey mind when taking on new practices such as yoga or meditation, which require the mind to be still… something that can feel quite foreign to the average Westerner.
And then if someone calls you a "monkey brain", it usually means they think you're an idiot.  Larry Winget, who we interviewed the other night, says we're ALL idiots sometimes (and even he is, more often than most); and that can mean that you're ignorant (you don't know any better), stupid (you do know better, but choose not to act on that knowledge), lazy, don't give a damn, lack vision, have low expectations, don't recognize the consequences of your actions, have bad habits, poor role models, or no plan.
Most of us, of course, are idiots in more than one of these categories.
====== Continued =======
Maybe you say you know all about the law of attraction / conscious-living, and have for 20 years, yet you focus all day on what you don't want.
Or maybe you say you value money, but you'd rather sit around and watch TV or meditate all day. Or maybe you're content with where you are because you figure it's all you're meant to be, do or have.
All of those instances might seem pretty innocent at first, but they're really idiotic when you think about it.
Monkey-brained!
But now we find out that "monkey brain" can be something good… as in, clever enough to debate intelligently over something.
How do we know this?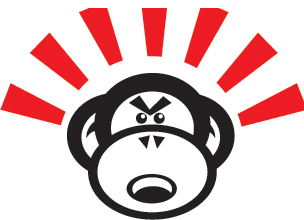 Because we found a website called "Hey MonkeyBrain! Where smart people go to argue" (link at the end of this blog post).
So if someone calls you a monkey brain, not only are they not necessarily insulting you, but they may be actually giving you a compliment.
"Oh, no!" we hear some of you saying. "Arguing is too negative to be considered a compliment!"
Well, why does that have to be the case?  Certainly if someone has a strong opinion or a stance on something that they know about, and can intelligently defend that position, that's an admirable trait.  We're not saying that it's bad to have an open mind; in fact, an open mind is a very good thing in most instances.
But if you're set in what you think, because you've got personal experience or knowledge to back it up, or it's just something you feel strongly about, why shouldn't you be allowed to voice your opinion — even if others just as strongly disagree?
We've quoted this before, but French essayist Joseph Joubert once said:
"It is better to debate a question without settling it than to settle a question without debating it."
And as Jim Rohn put it:
"You've got to argue, you've got to debate. Here's what happens to a good idea when it's debated: it grows, it refines. Sometimes it even becomes spectacular."
Not only that, but having an open mind to the extent that you blindly accept what others say (even what so-called "teachers", "gurus" or "experts" say) means that you lose the ability to think for yourself.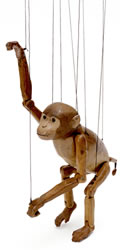 You become a puppet, with your strings being pulled by other people.  Sometimes your strings get pulled every which way, as you flip-flop back and forth based on different (and conflicting) things that other people say.  You start to live an incongruent life, which means you can't attract what you want into your life.  And eventually you lose control of what makes you "you".
What's the solution to cutting the puppet strings and becoming a real (read: well-rounded, congruent, and all-out powerful) person, just like Pinocchio wanted to be?
Think!  Ponder!  Question!  Wonder!  Debate!  Argue!
Get up on your virtual soapbox, and tell the world where you stand!
Well… what are you waiting for?
If it's a platform — a public place online to to speak your mind — keep reading:
Certainly you can head over to Hey MonkeyBrain to make your opinion known.
However, for something a tad more flexible and personal — a place where you can showcase whatever angle, philosophy, argument, or passion you like — consider this:
HeyMonkeyBrain's parent company.
A company that:
>> boasts one of the 300 most popular websites in the US
>> generates hundreds of dollars in annual royalties to charities and to its users
>> gets blogged about 1000+ times a day
>> allows you to make an interactive, Web 2.0 webpage in about 10 minutes (these are
called "lenses")
>> has a philosophy of "collaborative sharing"
That company is Squidoo !
To learn all about it and how you can use it to share, promote, and profit, click this banner:

Filed under: E-Business, Self-Sabotage